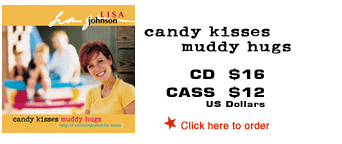 When I was presented with the opportunity to record my very first album, I knew in my heart it was to be a collection of songs to encourage my fellow moms. As I penned each song, inspiration flowed not only from my own experiences (Ode to the Gecko; Strong Love) but also from those of other moms (Melody; Daughter of Mine). From the zany reality of Pooped On, Pooped Out Blues to the quiet reflection of Greater Still, CKMH is meant to be a booster shot…a rooting section to cheer you on as you live out the greatest adventure on earth---motherhood!


Playlist (click on link for demo)
QuickTime Player required (download QuickTime)
| | |
| --- | --- |
| How Long? | |
| Your Hands | |
| Strong Love | |
| Ode To The Gecko | |
| Greater Still | |
| Into My Heart | |
| That's Not Me | |
| Look Into His Eyes | |
| Melody | |
| Pooped on, pooped out blues | |
| Daughter of Mine | |
| My Three Sons | |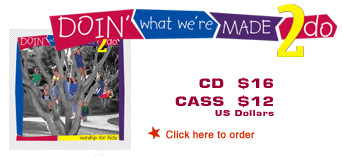 Doin' What We're Made to Do was a collaborative effort between myself and two wonderful friends—Stacey Robbins and Kristin Orphan. We set out to make an album of incredibly diverse music that not only kids, but moms as well, would enjoy listening to over and over. With almost an hour of music ranging from the silliness of Doin' What We're Made to Do to the reflectiveness of Beautiful, each song paints a picture of who God is, how much he loves us and how we can love him back.


Playlist (click on link for demo)
QuickTime Player required (download QuickTime)
| | |
| --- | --- |
| Doin' what we're made to do | |
| You oh God are strong | |
| That's the way | |
| Child of God | |
| God gave us Jesus | |
| Givin' You all of me | |
| I want to worship You | |
| Holy is your name | |
| Beautiful | |
| Love that will not let me go | |
| Lord I love Your word | |
| He is a God who loves His children | |
| He wants to walk with you | |
| Mighty love | |
| Jesus I want to forgive | |
| He is a God who love His children (reprise) | |